[ SPECIAL NOTICE: Strengthen Epidemic Prevention and Anti-epidemic Measures ]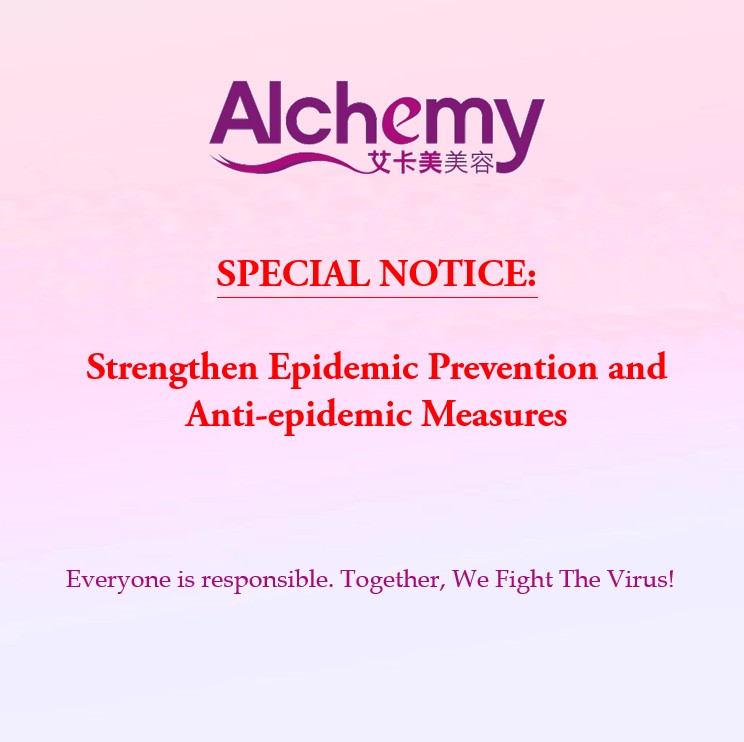 In view of the latest development of the COVID-19 and the epidemic, we are now further enhancing the epidemic prevention and anti-epidemic measures to ensure the health of customers and staff, and the treatment service can be carried out safely and securely.
To comply with the government's anti-epidemic regulations, our stores have the "LeaveHomeSafe" QR code, and customers and staff work together to fight the epidemic by scan with the code.
Sterilized carpets are provided at the entrance of the store, and (1:99) disinfectant is sprayed regularly.
All staff, visitors and customers need to take their temperature after arriving at the store to ensure that there is no fever or other respiratory symptoms before entering the store.
Hand sanitizers are available in the reception area. All staff, visitors and customers must disinfect their hands immediately while arrival, and spray the soles of shoes with disinfectant spray.
All staff, visitors and customers must wear masks all the time. (Except for customers who are during facial treatment.)
Staff must wear masks and face shields/goggles during treatment, and ensure their hands are clean, and may wear gloves when necessary.
Towels, bathrobes, bed sheets, etc. must be changed every time, cleaned in our store and sterilized at 180ºF (=82ºC) high temperature to ensure hygiene.
Single rooms, which are cleaned and disinfected immediately after occupation to ensure that the tools and rooms are clean and hygienic; and the cleaning and disinfection of equipment and treatment supplies will be strengthened.
The entire store regularly uses "RAZE Photocatalyst Disinfectant Antibacterial Spray" to reduce the spread of viruses and bacteria in items, door handles, and furniture.
To reduce the spread of viruses and bacteria in the air, "NBU & COUFAL E-Smog Protector Air Naturalizer " is installed throughout the store area and in every single room.
Enhanced cleaning of toilets, bathrooms, lockers, and dressing areas hourly. There is also a " UV disinfection machine" for disinfection, e.g. comb, key… etc.
Customers who have returned to Hong Kong from other places within 14 days or have been to other places/or have been in close contact with persons diagnosed with pneumonia, or have diagnosed persons in the residential building/or have symptoms such as fever, cold, etc., are advised to isolate themselves and seek medical advice as soon as possible. Notify us to change the treatment time to 14 days later.
Any staff who has been in contact with a person diagnosed with pneumonia or living in the building with a confirmed case/or has symptoms such as fever, cold or flu, must quarantine for 14 days and ensure that they are healthy before going to work.
If the customer has symptoms such as cough, cold and flu during the treatment, our staff reserves the right to immediately stop all treatment procedures and re-arrange the treatment date for the customer (that treatment course will not be deducted, thank you for the understanding!).
During the anti-epidemic period, customers will only be served with advance booking.
Thank you for cooperation, understanding and support! Stay safe and Good Health!
For enquiry, please contact us by   Tel: 23020002 / 36222783  or  WhatsApp: 62173122 / 90616173
Together, We Fight The Virus!
Alchemy Beauty Limited
2020-11-28